See on Scoop.it – Daily Content Highlights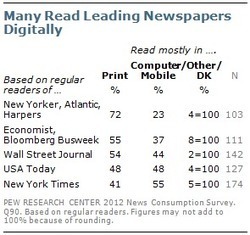 These questions typically spike whenever there is news involving closures or layoffs at once-powerful magazines like Time or Newsweek. or when a famous person like a Facebook co-founder sparks a lot of media coverage for buying a magazine like The New Republic.
Here's my quick answer to the question, "Will print magazines be around in the future?":
"Yes, but…"
For a much longer version of this answer – a version with predictions covering all types of print magazines – read on…
Okay, you've been forewarned: You're entering a longread zone.
See on www.hammock.com