See on Scoop.it – Daily Content Highlights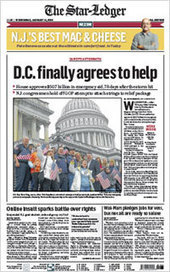 Paper Cuts: 'Star Ledger,' Smaller Newspapers Slash Jobs, Frequency – 01/17/2013
The litany of bad news for newspapers is continuing in 2013, with more layoffs and reductions in frequency.

The Star Ledger of Newark, New Jersey's largest daily newspaper, announced that it is laying off 34 employees, including 19 full-time employees and 15 part-time employees, according to the newspaper. The total will include 18 staffers from the newspaper's editorial operations, or around 9% of the 195-person newsroom.
Explaining the cuts, Publisher Richard Vezza cited the long-term decline in print advertising, as well as the economic effects of Hurricane Sandy, which devastated New Jersey households and businesses. Advance is also laying off 12 employees at The Express-Times of Easton, PA,11 employees at the South Jersey Times, and three employees from its weekly newspapers in western New Jersey.
Read more: http://www.mediapost.com/publications/article/191234/paper-cuts-star-ledger-smaller-newspapers-slas.html?edition=55553#ixzz2IGPVtbuO
See on www.mediapost.com