See on Scoop.it – Daily Content Highlights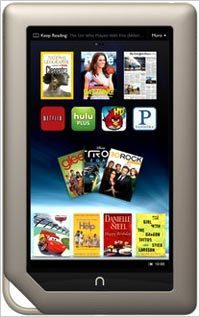 B&N's Nook Sales Record Shortfall – 01/04/2013
Barnes & Noble has disclosed that Nook sales during the holiday season were disappointing. On Thursday, it provided more detail, saying its Nook business had revenue of $311 million for the nine weeks ending Dec. 29 — down 12.6% from the same period a year ago.
Sales of digital content — including e-books, apps and magazines — increased 13.1%, while Nook unit sales dropped from the holiday season a year ago.
"NOOK device sales got off to a good start over the Black Friday period, but then fell short of expectations for the balance of the holiday," stated Barnes & Noble CEO William Lynch. "We are examining the root cause of the December shortfall in sales, and will adjust our strategies accordingly going forward."
The company had added the Nook HD and Nook HD+ tablets to its device lineup in the fall to better compete with the iPad and Kindle Fire during the holidays. As a result of the NOOK sales shortfall, Barnes & Noble now expects fiscal-year revenues of approximately $3 billion for the Nook Media unit, and EBITDA losses at a comparable level to fiscal-year 2012.
Revenue for Barnes & Noble's retail business — including its bookstores and online results — reached $1.2 billion for the nine-week holiday period, down 10.9% from a year earlier. The company blamed the weaker performance on an 8.2% decline in same-store sales, store closures and lower online sales.
Read more: http://www.mediapost.com/publications/article/190292/bns-nook-sales-record-shortfall.html?edition=55076#ixzz2H0vkigSL
See on www.mediapost.com