See on Scoop.it – Daily Content Highlights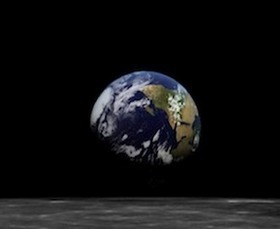 Probably not, alas, "let's get this mother out of here" …
This was followed by a countdown and, alas, due to some other minor equipment malfunctions, static. But not, at least per the transcript, with any mention of mothers. "During the mission review in Santa Fe," NASA mentions as an aside in that transcript, "Gene was surprised not to hear those words" — because Cernan himself recalled his final words they way Cunningham had quoted them. However, NASA continues: "What seems likely is that what he was remembering was his at 188:01:25 [the "let's get off" moment in the transcript] and that, in later tellings, the wording changed to the more colorful version Cunningham quotes."
Here's the relevant section of the transcript:
188:00:38 Cernan: Take your final look at the valley of Taurus-Littrow, except from orbit. (Pause) Okay, one minute, Houston. We're 50 seconds now, and we're Go.
188:00:51 Fullerton: Roger. You're looking good here.
188:00:55 Schmitt: I'll get that (camera) at 30.
188:00:57 Cernan: Okay. (Pause)
188:01:10 Schmitt: Camera's not going to run without me holding it.
188:01:20 Cernan: Okay. Average G, 20 seconds.
[Cernan – "This was a routine in the PGNS to start recording data from the accelerometers."]
188:01:23 Schmitt: Ah, shoot!
188:01:25 Cernan: Okay. Now, let's get off. Forget the camera. (Garbled)…
MPEG Clip by Kipp Teague (30 sec; 3.9 Mb)
188:01:27 Schmitt: Ten seconds.
188:01:28 Cernan: …10 seconds.
188:01:29 LM Crew: Abort Stage.
188:01:30 Cernan: …pushed. Engine Arm is Ascent.
188:01:32 Schmitt: Okay. I'm going to get the Pro. (Pause) 99 Proceeded 3, 2, 1…
188:01:39 Schmitt: Ignition.
So there it is — sort of. "Let's get off."
See on www.theatlantic.com